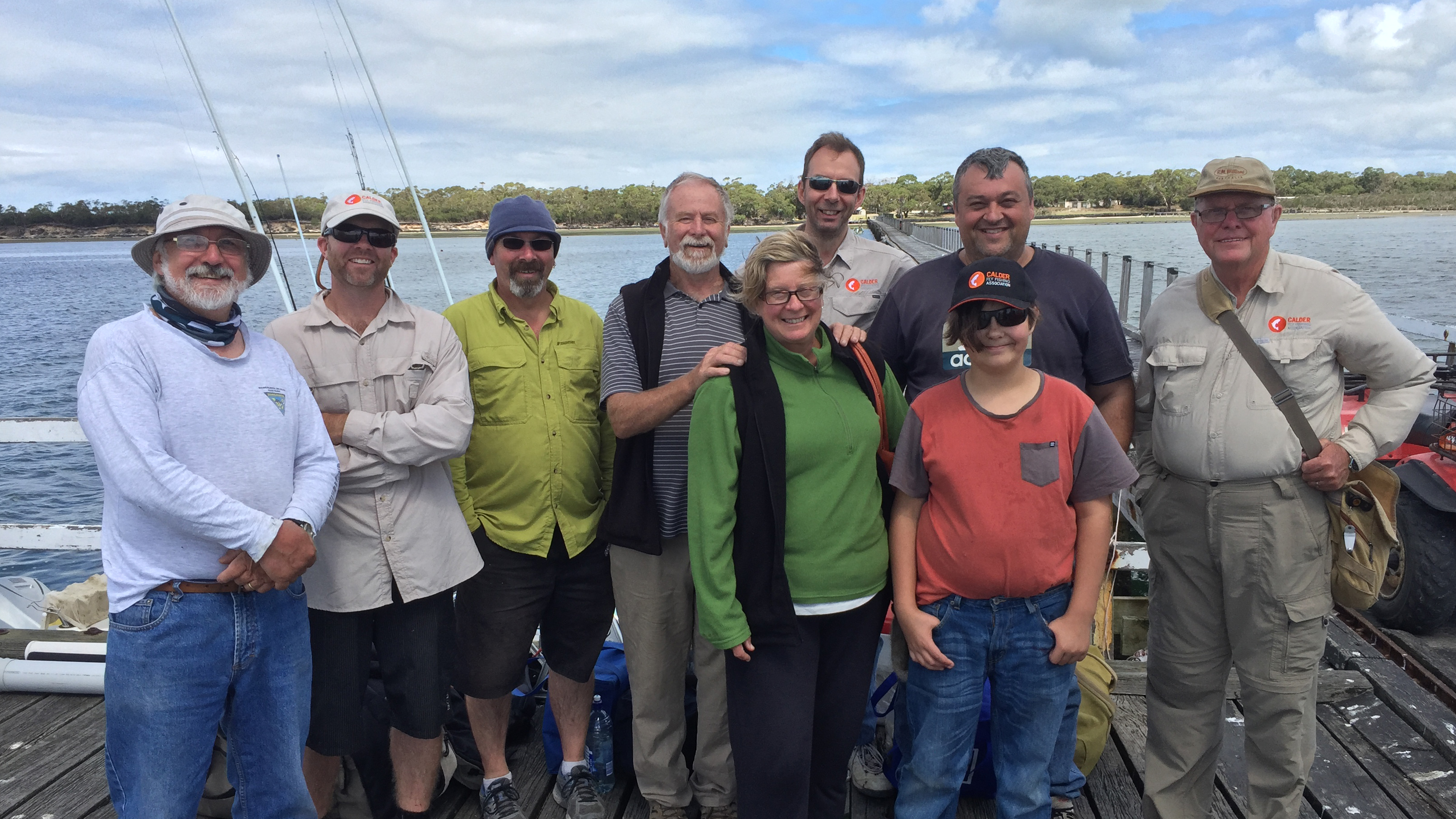 Sunday Island, privately owned, a jetty close on 500 metres in length, channels and back creeks, mythically one kilo flathead used as bait, the promise of kingfish, king snapper and King Island whiting, not to mention the odd manta ray and gummy shark. The lure was irresistible but for this weekend, it was only Clouser flies and eight weight or above reels (you can judge a fly fisherman by the size of his tackle). And so with the promise of angling glory and what was a unique opportunity to be a Neighbour to Kylie Minogue, I went from simply being diifish @bigpond.com support crew to one of the magnificent ten club members who battled the traffic on Friday to rendezvous at Port Albert in South Gippsland. There on dusk we embarked with countless luggage and fishing equipment on board the crayfish trawler SS Yimbala bound for the Sunday Island tent city and bunkhouse accommodation, guests of Calder identity Val Zelenbaba, a committeeman of the Para Park Co-operative, the guardians of the island and protectors of the endangered hog deer.
A late arrival that night meant a sluggish start the next morning, however the tides favoured us and so we broke into two groups, one led by Stephan, the other by Mick and headed cross country to the southern side of the island in a mini-bus commandeered by Val, intending to fish the various deep channels for mullet, flathead and salmon. A couple of casts in Stephan caught a small flathead but retired soon after with a broken rod tip, Louis netted another smallish flathead and Dianne, after hooking a small mullet, was forced to crawl to shore, caught up in some particularly viscous mud. There were a couple of other solid strikes for Neil and Brian but nothing to show for the effort, so we trudged back to the meeting point and headed home to camp for lunch, only slightly cheered by the competitive knowledge that Mick's group had been even less successful.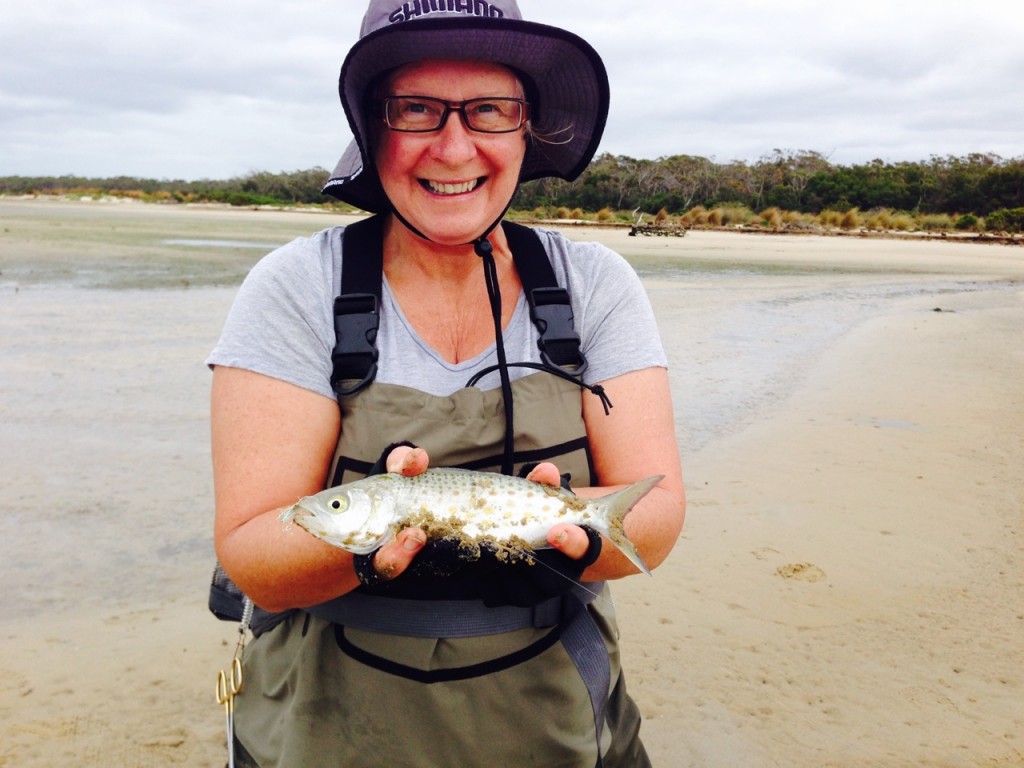 As the muggy heat set in most of us enjoyed an afternoon siesta, but hardy individuals like Brian, Rob and Mick tried fishing off the jetty and although unconfirmed, apparently caught and released a couple of undersized specimens. Rob, our spey caster, even managed to catch a reasonable salmon while setting up for the 'D'. However that elusive kingfish that had so excited Dusan last year, remained undetected and disdainful of any Surf candy flies. Still there was always tomorrow, in the meantime there was the evening barbecue hosted by Val to look forward to, venison sausages (the hog deer need the occasional culling), steaks and marinated chicken, even some flathead fillets provided by Mick's son who took his cabin cruiser and bait fished offshore. A most enjoyable balmy night was extended somewhat when Val supplied a taste of home-made rakia (no that is not Balkan for rocket fuel, it was actually incredibly smooth and moreish, much to the eventual remorse of certain unnamed club members. Its medicinal qualities did however help to deaden Rob's persistent toothache).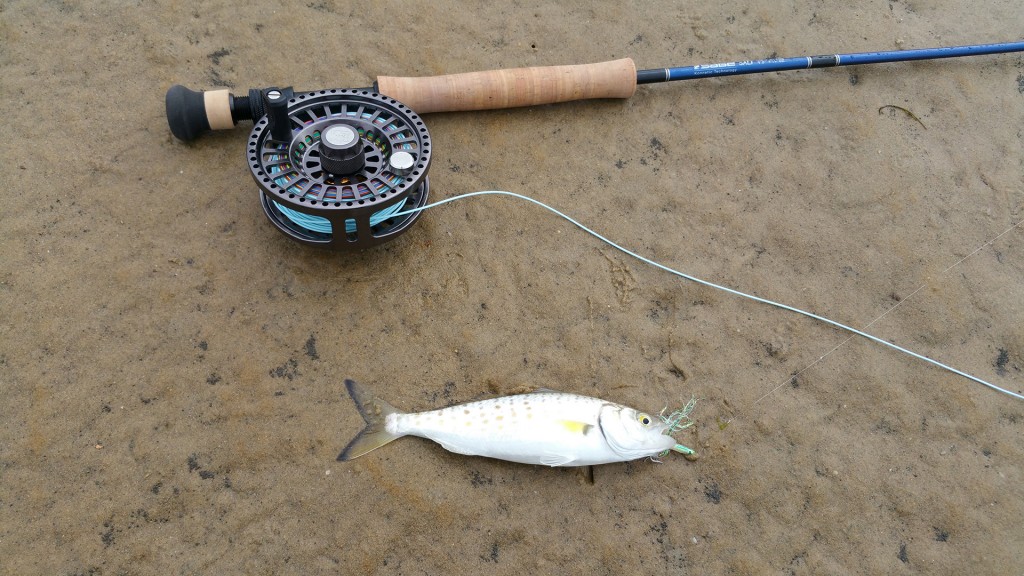 After an even more tardy start the next morning, the group, now combined, again, went to the backwater channels at low tide and by all reports were much more successful, apparently releasing larger salmon, flathead and mullet, the catches generally shared around amongst those present. I can only say apparently because shamefully I loaded up a surf rod (refer to previous tackle references) and bait fished with squid off the jetty for undersized flathead. A pity I was using a 6 lb breaking strain trout fishing line because the first decent strike I had, the line snapped immediately. I'm sure it was Dusan's legendary kingfish, the only consolation, at least it will still be waiting for him next year.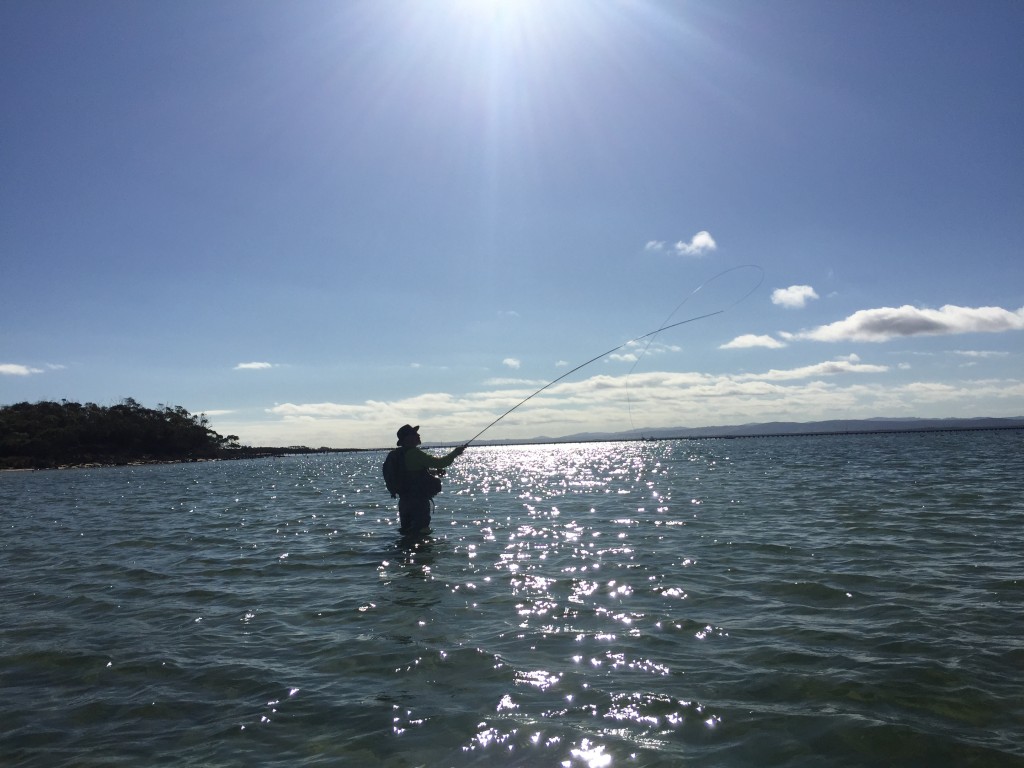 And so the great adventure wound to an end, the Calder Fly Fishing Association expeditionary force packed up and motored back to Port Albert. We may not have hooked any monsters but the environment was pristine, the fly lines unfettered and the camaraderie great. The island is sprinkled with dog-sized hog deer peering above the grasslands and scores of swans dot the foreshore. Val and his colleagues were fantastic hosts and it was a weekend that was not only special but relaxing. If the trip is on offer again next year, I totally recommend club members avail themselves of the opportunity to be part of this Sunday Island saltwater fly fishing experience.
Graham Cooper (diifish @ bigpond support crew).