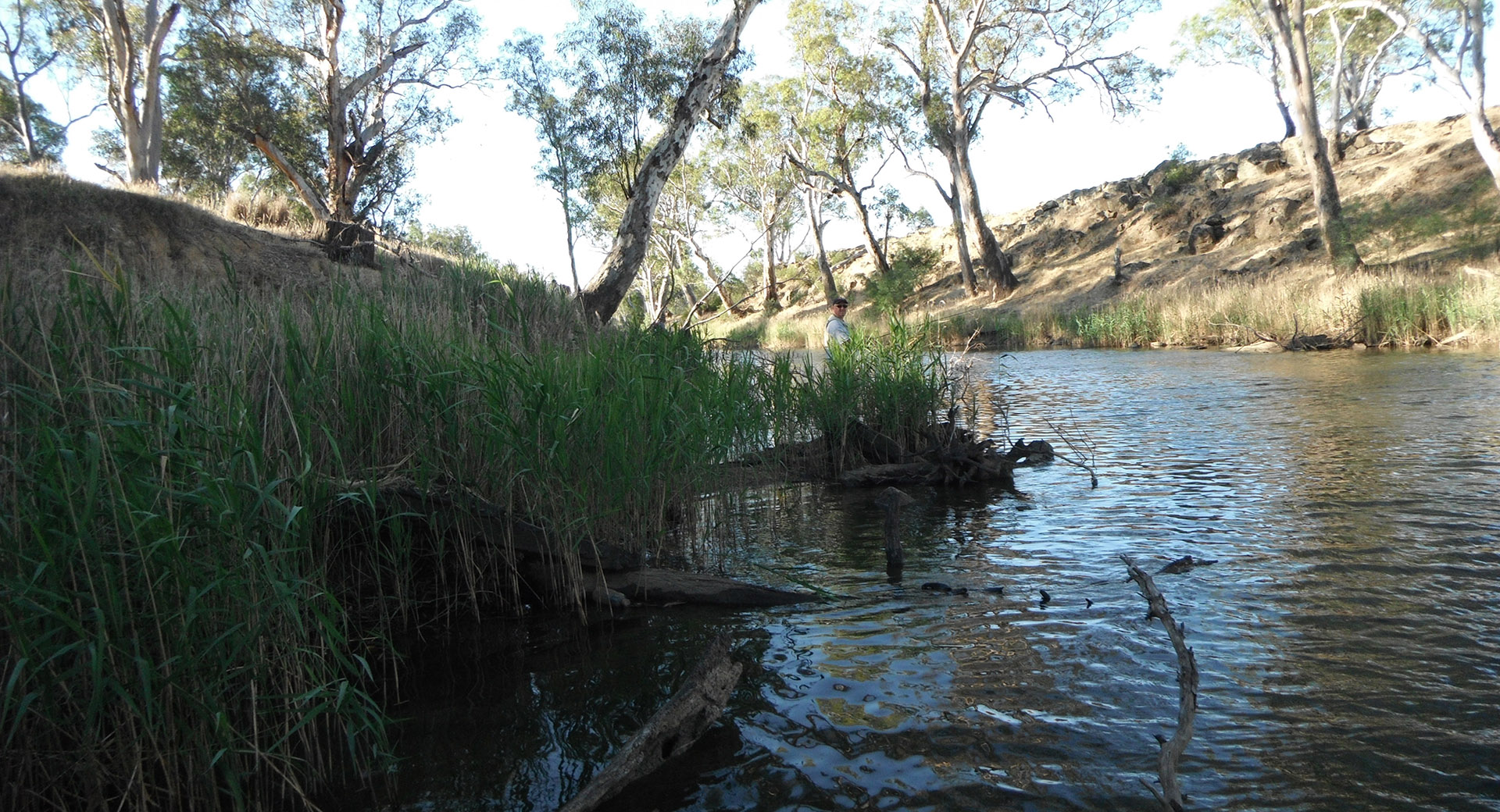 Ben Le Vagueresse (CFFA President), Wayne Jeffs (Member CFFA) and I arranged to meet at Newbridge General Store at the allotted time of 16:30hrs, typical for me I was an hour early so had a bit of look around. There was the General Store which really is the epitome of country town general stores, sold everything from nuts and bolts, irrigation supplies, toilet paper and bragged it made the world's best "Rump Steak Pies", I was tempted however, thought better not!
The only other notable building in the town was the Pub complete with country locals enjoying the sunny afternoon and listening to the cricket and Australia's effort to win the first test against India. That was it for the town, except of course, the bridge over the river our destination for the next 18hrs.
After Ben and Wayne arrived we set off in our cars heading north dutifully following Ben to a "secret" location downstream. As I'm under instruction from our President and sworn under the CFFA official secrets act I can't provide more information about our location (really because I was lost and wouldn't find the gate into the camping site again anyway)! As soon as we arrived at our location we were met by Damian Keegan from Bendigo Fly Fishing Club, we set up "Base Camp" alongside the river which was about 15 metres wide at our location and flowing slowly to the north. Along the banks which were quite steep in places were tall big old weathered red gums, large granite boulders and tree stumps covered with layers of grass, logs and the debris from years of floods.
After setting up camp I noticed that Ben and I had not chosen the best of places to pitch our tents; we had in haste, as you do when camping, put our tents under a big red gum leaning over the tents with a huge limb off main trunk of the tree running right along the line of the tents! Had this limb come crashing down, bait fisherman would not have needed to look far for bait, lots of tasty morsels for the carp, some legacy for two dead Fly Fishermen, "carp bait"! Oh well not to worry there wasn't a lot of choice to place the tents anyway, and what the hell, we were there to fish!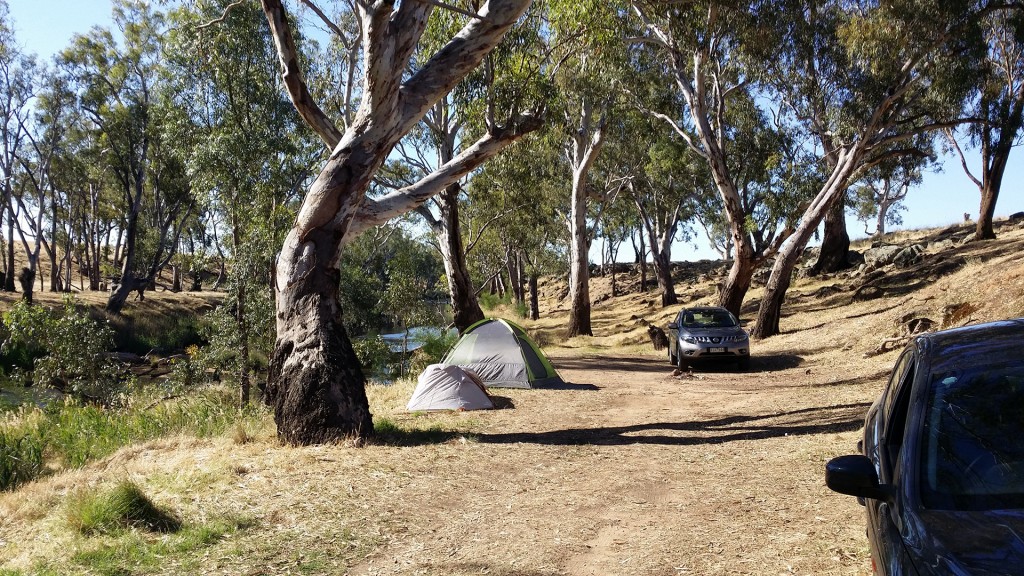 By 17:30Hrs Base Camp was set up, rods in hand almost ready to go. Ben and Damian helped Wayne and I to set up the rods; 8 weight with intermediate line, tippet made up of about half a metre each of 40lb and then 20lb fluorocarbon line, a small swivel was used to join the lengths of tippet. This meant that when casting the weight and movement of the fly didn't twist the fly line ensuring it presented well in the water and wasn't a twisted clump. The flies chosen (tied by Ben) were as he described and named "Cod Snacks", surface or subsurface with large dumbbell eyes with purple marabou feathers and a splash of silver flash for the body; fantastic looking flies that were designed to imitate anything from a frog, minnow, mouse or even a small bird. One other important feature of the fly I discovered later was Ben's experiment, a heavy weight line tied onto the hook so to form a loop that clipped under barb this was the weed/reed guard!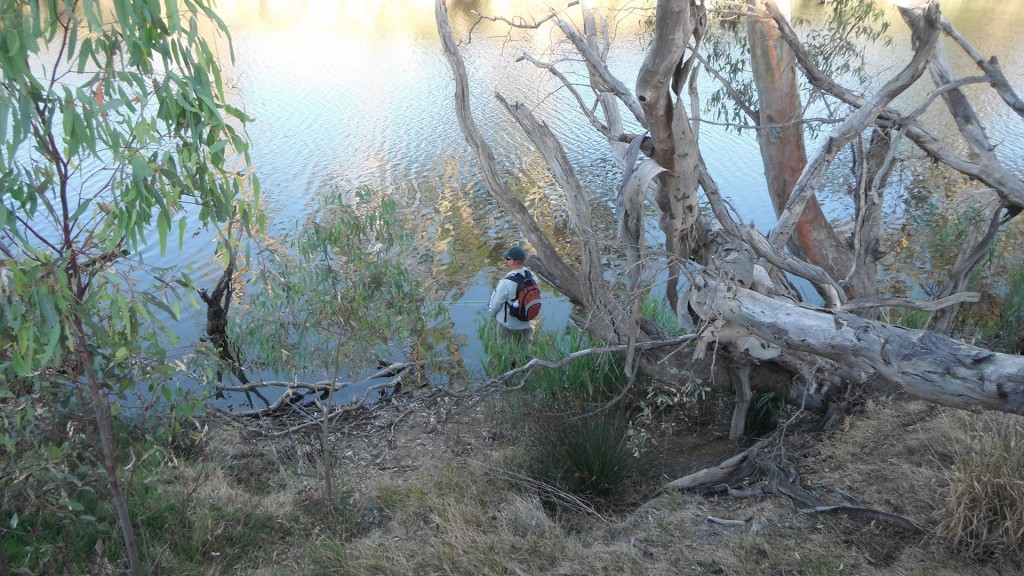 By 18:00hrs we were on the river receiving instruction from Ben and Damian how to fish for Cod, Yellow Belly and of course that cursed European Carp.
The Cod fly and the tippet were much heavier than 4wt leader and trout flies I had become used to casting! So when I started out I felt as though just started fly fishing for the first time! I was flapping, swish swashing and whatever awkward name you could put to my effort to get the cod fly the 5 metres to the big log Ben suggested I target, not pretty! Ben and Damian suggested I use more fly line as I was not using enough line to carry the weight of the fly. Wayne also encountered the same problem however, he was up and away and looking very professional in no time at all. After an hour or so I was ok to get going.
The cast dealt with, the next lesson was looking for areas Cod and Yellow Belly reside, I was ignoring the fact the carp would be just about anywhere. Ben gave us some very useful information as to what the Native Fish like to do; essentially lazy feed under logs and in the reeds and like Trout close into the banks where depth allowed.
The next lesson the presentation of the fly to the fish, well here was the fun bit, the bit I could excel in. Unlike Trout fussy, easily spooked buggers, Australian Native fish are bold, outward going and nosy! Any movement at all a big splash and commotion apparently they're into it! So presenting the fly in this manner was great, smashing it into logs, dropping into the water so that you'd see the ripples in outer space was just brilliant. We spent three and a half hours wandering down stream smashing flies into logs, and wait for it "weeds"… yes the brilliant weed guard meant that if the fly was caught in the weed the guard would stop the barb of the hook become attached, so no snags! However, I think the Cod and its Native cousins had all been out to lunch, weren't interested in our flies despite the fact I for one was presenting it like it was a Xmas turkey on a hook!
At about 21:30hrs darkness stopped play and we retreated back to Base Camp under the light of the best star covered sky I'd seen for a long time. Tired and content with efforts of the evening fish, numerous cups of tea, something to eat and of course the great at length conversations and fishing stories it was time to hit the sack, oops under that bloody tree!
Next morning the mobile phone sang out at 05:00hrs, yes we were still alive! It was still dark but quite warm and with a half moon shining overhead we were up and ready for the river! The morning fish was a repeat of the previous night, walking, climbing over logs, balancing on logs two metres out into the river to get the best cast and smashing away ever so gracefully trying to attract the Native Fish to our flies. The Story for Ben and Damian however, was to be a slightly different one, they were using their Float Tubes!
The Float Tubes enabled them to go from bank to bank and get into the logged areas of the river easily. They looked very comfortable, lazily floating around on the river cast here and there, all very decadent really, fly fishing in comfort. All they needed was a little side table and a cold beer or whatever you fancy next to them, I for one was immediately impressed!
Our morning continued as the previous evening with no fish being caught! The nearest I got to catching a fish was seeing a big Carp lazily flopping around in the weeds about 2 metres away from me. Well, I cast the fly right in front of it waited for second or two and lazy bugger just rolled over. As the Carp was unmoved by my presentation of the fly I decided, ok you bugger, I'll feed it to you. After a quick look around to make sure no one was watching me or the carp, which was still just flopping around with its mouth wide open. I strip the line back and with the fly dangling on about one and half metres line I then proceeded to gently lower the fly (Cod Snack) into the Carps mouth! The carp the most disgusting arrogant looking fish I'd ever seen let the fly touch and enter its mouth; I think it then saw me and thought no way and then, simply with the efficiency of a nuclear powered submarine firing its war head spat my fly, dived and rolled over without even closing its mouth on the fly!
Well I have never been embarrassed or intimidated by a fish before and if there was a time for it to happen it was definitely then!
Our morning ended with no fish caught however, Wayne and I really enjoyed and appreciated the time given by Ben and Damian. They ensured we were able to get the most out of the experience. Native Fish Fly Fishing is most definitely an alternative to Trout fishing and is certainly worth a try, I'm sure you'd enjoy it.
Thanks Ben, Damian and Wayne for a great Weekend and looking forward to the next one.
Andrew Martin.